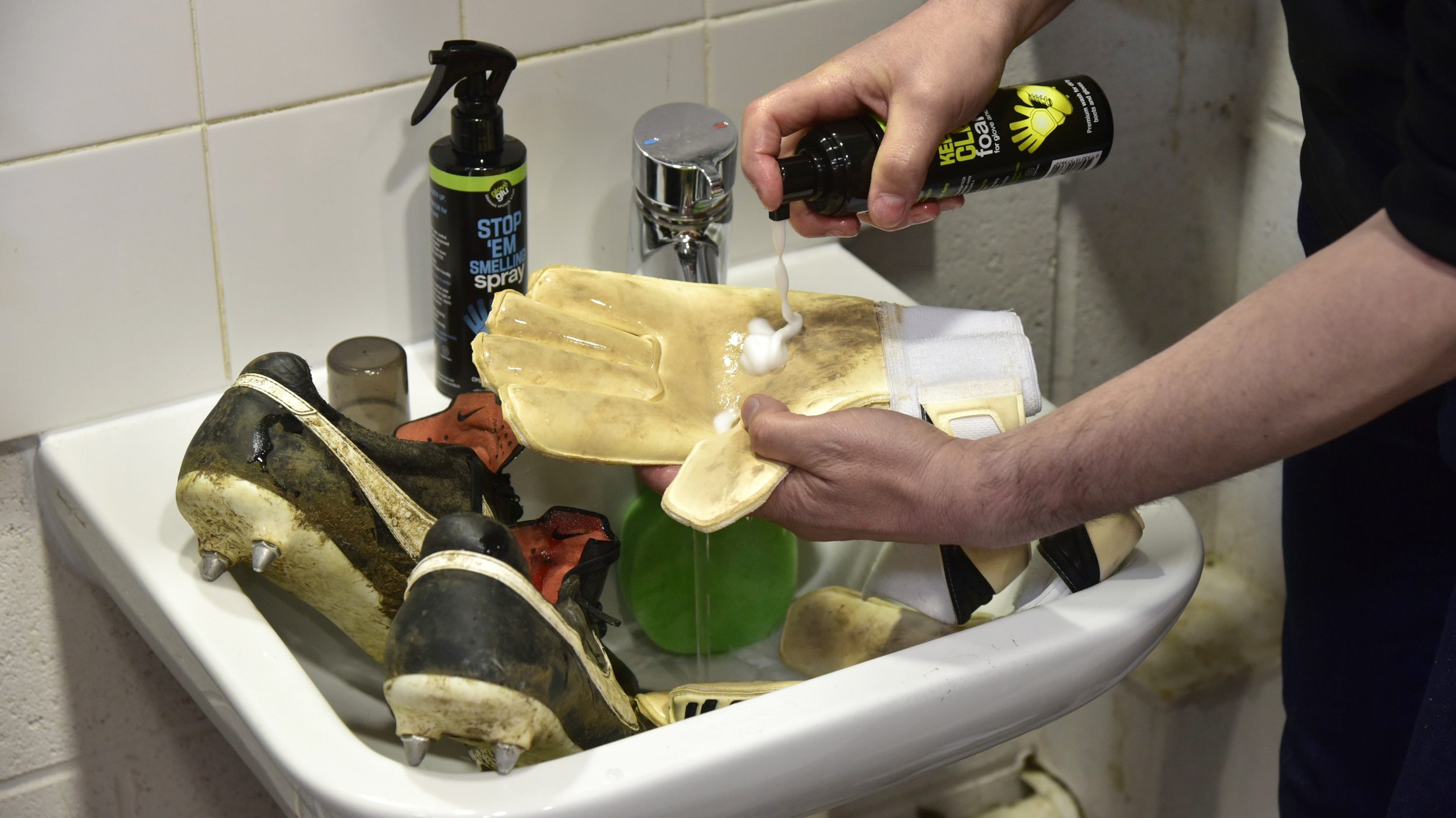 Taking care of your gloves after every use is the most essential step in order to increase the glove's life. Used gloves have unimaginable bacteria and odour that needs to be removed to get that fresh glove feeling every time you wear them for a match.
Glove wash and glove deodorisers are the two goalkeepers' glove essentials that can help in glove maintenance after every use. Just Keepers has a wide range of these products to help you select the perfect glove wash and glove deodoriser. By using these essentials regularly, you can prevent the bad odour from building up and also help your pair of gloves to get back to optimal conditions to use in your upcoming game.
Glove Wash
The gloves you wear after a game gather dirt, odour, bacteria, and a whole host of other unwanted things. Anyhow, washing them will only make them appear clean, but in reality, they won't be. Glove wash is what is always recommended to help you remove the sweat and dirt from your gloves properly.
There are different brands of glove wash for your gloves. Make sure to read the user instructions before using the glove wash. This will help you to make optimal use of the glove wash and use it correctly without damaging your gloves. Just Keepers has the perfect glove wash brands you can use.
There are premium glove wash brands like ONE Glove Rescue Wash, Kaliaaer Re: Charge glove wash, Reusch, Keep EM CLEAN Foama glove wash, Wash and Prepare glove wash, Stanno, GloveGlu and many others available at Just Keepers.
Remember to keep your latex foam clean to help you keep your gloves durable and increase their gripping ability. Protect your gloves from damage by using only professional high-end glove wash.
Glove Deodorisers
Glove deodorisers ensures that your gloves remain bacteria-free by removing bad odours from them. The glove deodoriser can be used after your gloves have been washed. They are available in powder and spray forms that can be applied to gloves and placed inside them.
Glove deodorisers help to absorb moisture from your gloves. Deodorisers can also be used for your glove kit and glove bags or any other place you keep your gloves. They help absorb the moisture and remove bacteria and bring back the soothing smell to your gloves just as they were new.
Just Keepers offers natural and recyclable glove deodorisers made from non-toxic materials like bamboo charcoal which can be reactivated by just placing the pouches in the sun and can be used for as long as one year. Glove deodorisers are available in pouch and spray form to suit your needs. Ultimately, glove deodorisers and glove wash are essential to keeping your gloves clean and fresh after use. Using these essentials will help to extend glove life and protect your gloves from bacteria, dirt and keep them smelling fresh for every game you play.